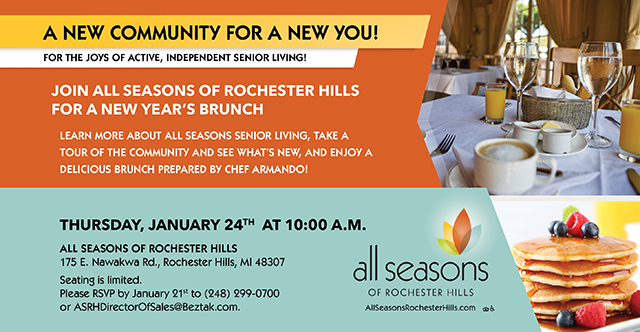 New Year's Brunch for a New You at a New Community!
Join All Seasons of Rochester Hills for a New Year's Brunch
Learn more about All Seasons Senior Living, take a tour of the community, and see what's new! Enjoy a Delicious brunch prepared by our own Chef Armando and his Culinary Team!
THURSDAY, JANUARY 24, 2019 at 10:00 AM
All Seasons of Rochester Hills
175 E. Nawakwa Road
Rochester Hills MI 48307
www.allseasonsrochesterhills.com
Please RSVP by January 21st to (248) 299-0700 or ASRHDirectorOfSales@Beztak.com
Seating is limited.
Contact:
Claudia Mills
(248) 299-0700